tranQuilizr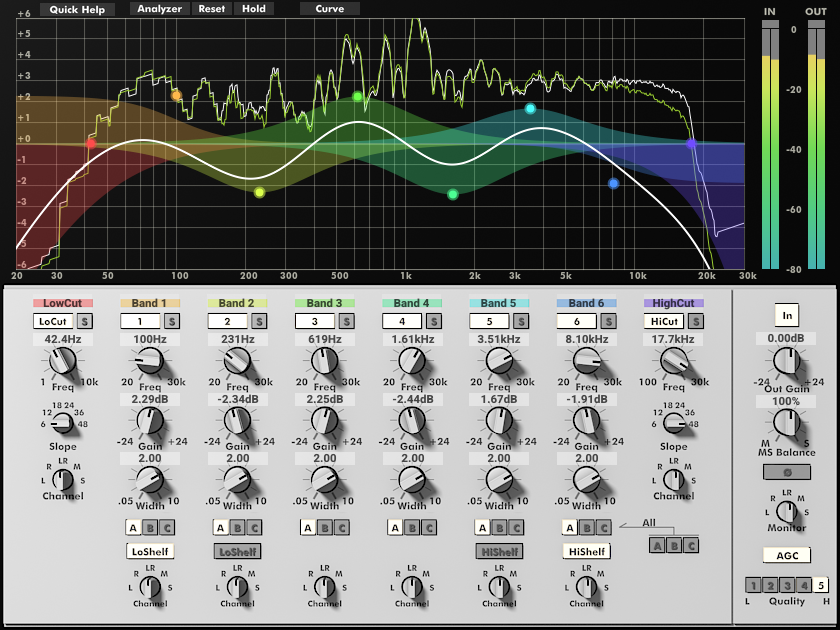 ▶ Perpetual License
13,200 JPY (excl. tax)
▶ 1-year to Perpetual extension
9,790 JPY (excl. tax)
Prerequisite
tranQuilizr 1-year license or Total Bundle 1-year license
Overview
tranQuilizr is an equalizer plugin with transparent sound and intuitive operations.Conventional digital equalizers are bound to conventional equalizer design method, such as bilinear transform,and brings equalizing curve distortion and unwanted sound coloring.tranQuilizr employs a new method on equalizer design and provides really transparent sound.
Users can adjust tradeoffs between quality and CPU load by Quality parameter.tranQuilizr also offers flexible channel management; every band can be inserted on LR/L/R/M/S channels independently.Automatic Gain Compensation (AGC) enables gain control against total gain changes caused by equalizer bands.
Features
Unique transparent sound.
Six equalizer bands and Lo-/Hi-Cut filters.
All equalizer bands and filters can be put on a channel in Stereo(LR), Left, Right, Mid and Side.
Equalizer supports 20Hz to 30kHz center frequency, -24 to +24dB gain and 0.05 to 10 octave bandwidth.
Three equalizer types of different sound characters.
Filters support 1Hz-10kHz for Lo-Cut and 100Hz-30kHz for Hi-Cut.
On/off and solo switch for every band.
Automatic Gain Compensation (AGC).
Up to 1,536kHz internal sample rate.
Phase invert switch.
M/S balance adjustment.
Monitoring channels is selectable from Stereo(LR), Left, Right, Mid and Side.
Mouse-friendly paragraphic operation.
Small plug-in latency (64 samples).
Output gain.
Product History
Version 1.11.4 (2021-03-15)

Add AVX2 Installer.

Version 1.7.4 (2016-01-31)

Add "Ear-Only" mode.
Add new analyzer features.

Version 1.7.3 (2015-05-03)

Supports surround configuration up to 8in/8out.

Version 1.7.2 (2014-03-31)

Performance improvement for 10-20%.

Version 1.6.0 (2013-09-27)

AAX-Native is now supported.

Version 1.5.2 (2013-06-30)

Performance improvement for 55%.
Add spectrum analyzer.

Version 1.5.0 (2013-04-28)

Initial release.
Common Specifications
Operating System
Windows 8.1 / 10 / 11 (64bit only)
macOS 10.12 Sierra - macOS 12 Monterey (64bit only)
Processor
x64 compatible processor with SSE3 instructions
Apple Silicon Mac
Plugin Format
VST2, VST3, Audio Unit, AAX-Native
Common Features
Supports 44.1k - 384kHz Sample Rate
64-bit Floating-point Internal Precision
Latency Compensation
Factory Preset
Snapshot (ex A/B Comparison)
Undo/Redo
Reset to Default