Track Symbiosis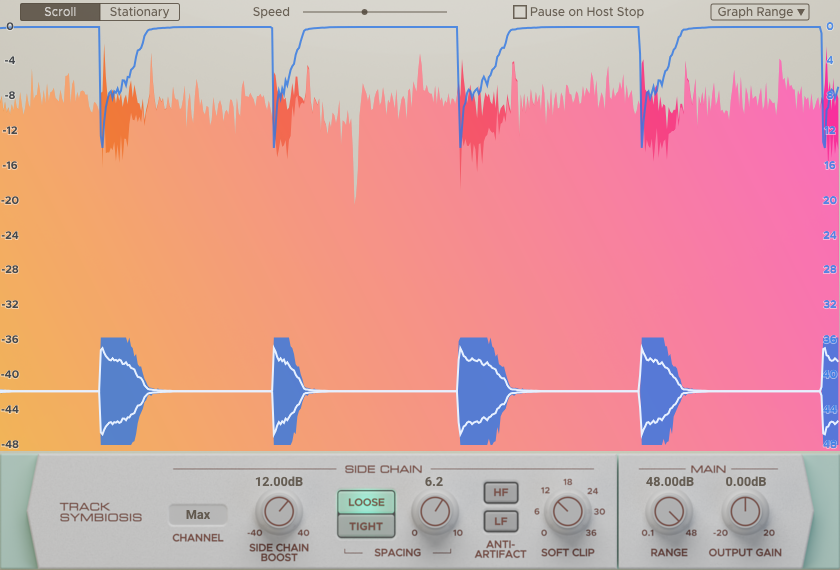 Perpetual License
7700 JPY (excl. tax)
1-year to Perpetual extension
5720 JPY (excl. tax)
Prerequisite
Total Bundle 1-year license
Orders will be reviewed manually.
Table of Contents
Overview
Track Symbiosis is a precise ducking tool. It reduces signal level of main input according to sidechain input level.
Figure below is a conceptual illustration of ducking. Upper half is signal mixing without ducking, lower half is with ducking. In the lower part, main input signal gets reduced and gives a room to side-chain signal.
Despite ducking can be done by general purpose sidechain compressor, Track Symbiosis still has quite advantages on preciseness of reduction curve and intuitive user interface.
Features
Precise envelope detection and ducking
Insightful composition of three envelope detection algorithms
Envelope adjustment by soft clipping
Distortion suppression
Sidechain channel selection
Intuitive user interface
Note: since Track Symbiosis's functionality is based on sidechain function of each plugin format, it is not provided in VST2 plugin format.
Screencast
Block Diagram
Version History
Version 1.16.0 (2023-03-12)

Initial Release
Common Specifications
System Requirements (Windows)
CPU
x64-compatible CPU
Operating System
Windows 10 22H2 (64bit only)
Windows 11 22H2
Supported Plugin Format
VST2, VST3, AAX-Native, CLAP
Supported Hosts
Ableton Live
Audition
Bitwig Studio
Cakewalk by BandLab
Cubase
DaVinci Resolve Fairlight
Digital Performer (VST2 only)
FL Studio
iZotope RX (VST2 only)
Nuendo
Premiere Pro
Pro Tools
REAPER
Samplitude
Sequoia
SOUND FORGE
Studio One
VEGAS Pro
Waveform
WaveLab
System Requirements (Mac)
CPU
Intel / Apple Silicon
Operating System
macOS Catalina 10.15
macOS Big Sur 11
macOS Monterey 12
macOS Ventura 13
Supported Plugin Format
VST2, VST3, Audio Unit, AAX-Native, CLAP
Supported Hosts
Ableton Live
Audition
Bitwig Studio
Cubase
DaVinci Resolve Fairlight
Digital Performer (Audio Unit only)
Final Cut Pro X
FL Studio
GarageBand
iZotope RX (VST2 only)
Logic Pro X
LUNA
Nuendo
Premiere Pro
Pro Tools
REAPER
Studio One
Waveform
WaveLab
Common Features
Supports 44.1k - 384kHz Sample Rate
64-bit Floating-point Internal Precision
Latency Compensation
Factory Preset
User Preset
Snapshot
Undo/Redo
Reset to Default