Invisible Limiter G2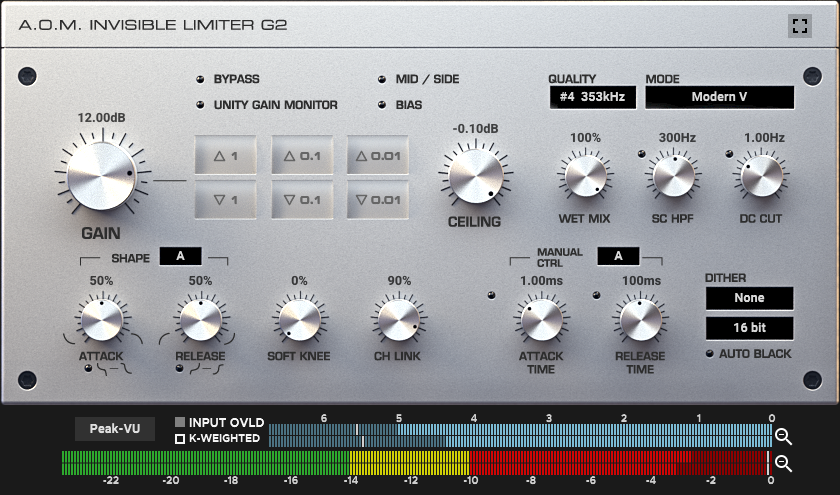 Perpetual License
22000 JPY (excl. tax)
1-year to Perpetual extension
16500 JPY (excl. tax)
Prerequisite
Invisible Limiter G2 1-year license or Total Bundle 1-year license
Orders will be reviewed manually.
Upgrade from Invisible Limiter
10890 JPY (excl. tax)
Prerequisite
Invisible Limiter Perpetual license
Orders will be reviewed manually.
License Purchase Guide
This license is for Invisible Limiter G2. Please note it cannot unlock Invisible Limiter nor Invisible Limiter G3.
Table of Contents
Overview
Focus on Limiting, Once Again
Loudness war is over, limiting just for loudness is no longer an issue, however, how we should limit signals is still an issue. Limiters continue to play one of crucial roles in mastering process, and become a more aggressive part in sound tuning.
Invisible Limiter G2 is focusing to allow precise control to user. Its basic algorithm is inherited from the predecessor Invisible Limiter, but there are a lot of enhancements, such as reduction shape controls, softknee, channel link, manual attack/release time, dither, side chain filter, etc. You will get huge amount of freedom.
Easy Mode
The freedom of control also brings complexity and difficulties in learning. Invisible Limiter G2 offers "Easy Mode". In this mode, the limiter shows only essential controls for rapid learning and practical use.
Unity Gain Monitoring
Loudness affects to perception. Louder sound often brings better impression for listeners, but the same effect leads engineers to a wrong sound judgement.
The idea of Unity Gain Monitoring is simple – putting negative gain on output stage. The amount of negative gain is same as makeup gain. Using Unity Gain Monitoring, the makeup gain is cancelled and you can focus the sound difference through limiting.
Oversampling
Non-oversampling peak limiters have a problem on detecting peaks. The figure below shows peak detection of limiters. Non-oversampling(1x) samples and oversampling(8x) samples result a same analog waveform. Non-oversampling(1x) limiters cannot detect a true peak in resulting analog waveform. In contrast, oversampling(8x) limiters can detect and process the true peaks.
Note that Invisible Limiter G2 is true peak aware, but it is for sound, not for measurement. The limiter does not guarantee conformance to any true peak measurement specification.
There is an obscure but important improvement in oversampling low-pass filter. This kind of filter aims to remove ultrasonic frequencies in the middle of oversampling process. In Invisible Limiter the filter has achieved 70 to 80dB reduction, the corresponding part in Invisible Limiter G2 does 160dB.
Block Diagram
Overall Structure
Limiter Part
Product History
Version 1.15.3 (2022-09-09)

CLAP plugin format is now supported.

Version 1.13.3 (2022-01-27)

Added Modern V mode.

Version 1.11.4 (2021-03-15)

Added Modern IV mode.
Add AVX2 Installer.

Version 1.10.2 (2020-03-01)

CPU load is reduced to 55% of previous version.

Version 1.9.6 (2019-07-16)

Added Modern III mode.

Version 1.8.2 (2017-12-28)

Add new factory preset.

Version 1.8.1 (2017-07-06)

Added Modern II mode.
Support up to quality 10.
Support up to 12 channels symmetric I/O.
Reduce CPU load by 30-40%.

Version 1.8.0 (2016-05-20)

Initial release.
Common Specifications
System Requirements (Windows)
CPU
x64-compatible CPU
Operating System
Windows 10 22H2 (64bit only)
Windows 11 22H2
Supported Plugin Format
VST2, VST3, AAX-Native, CLAP
Supported Hosts
Ableton Live
Audition
Bitwig Studio
Cakewalk by BandLab
Cubase
DaVinci Resolve Fairlight
Digital Performer (VST2 only)
FL Studio
iZotope RX (VST2 only)
Nuendo
Premiere Pro
Pro Tools
REAPER
Samplitude
Sequoia
SOUND FORGE
Studio One
VEGAS Pro
Waveform
WaveLab
System Requirements (Mac)
CPU
Intel / Apple Silicon
Operating System
macOS Catalina 10.15
macOS Big Sur 11
macOS Monterey 12
macOS Ventura 13
Supported Plugin Format
VST2, VST3, Audio Unit, AAX-Native, CLAP
Supported Hosts
Ableton Live
Audition
Bitwig Studio
Cubase
DaVinci Resolve Fairlight
Digital Performer (Audio Unit only)
Final Cut Pro X
FL Studio
GarageBand
iZotope RX (VST2 only)
Logic Pro X
LUNA
Nuendo
Premiere Pro
Pro Tools
REAPER
Studio One
Waveform
WaveLab
Common Features
Supports 44.1k - 384kHz Sample Rate
64-bit Floating-point Internal Precision
Latency Compensation
Factory Preset
User Preset
Snapshot
Undo/Redo
Reset to Default