DeSibilizer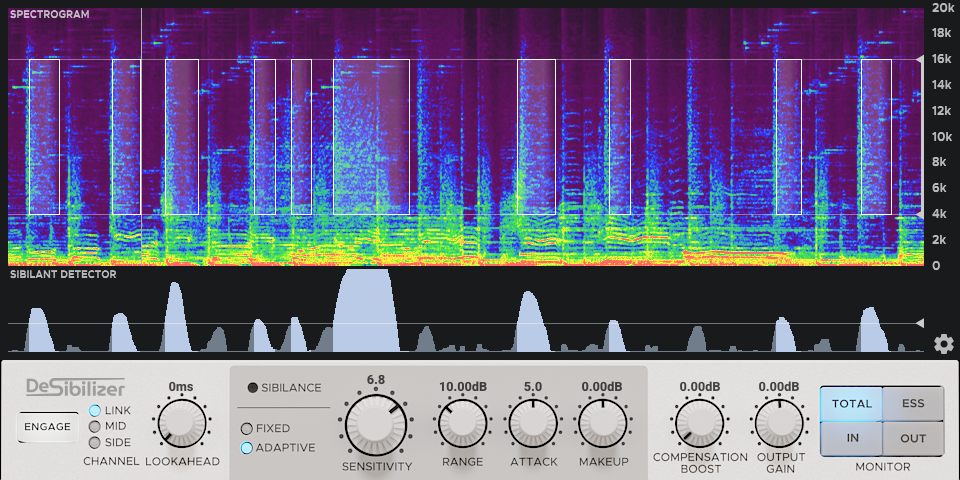 Perpetual License
16500 JPY (excl. tax)
1-year to Perpetual extension
12320 JPY (excl. tax)
Prerequisite
Total Bundle 1-year license
Orders will be reviewed manually.
Table of Contents
Overview
DeSibilizer is a de-esser plugin, which reduces sibilants in vocal and speech.
Features
Detects long sibilants rather than strong sibilants.
Intuitive frequency range selection.
Control de-essing behavior by two factors: detection sensitivity and detection threshold
Fixed and adaptive sensitivity
Very low sound coloring
Preserve groove by keeping head of sibilants by default.
Lookahead feature to reduce whole sibilants.
Compensation boost: gain to total band signal, synchronizing to reduction.
Difference between DeSibilizer and DeSibilizer LL (Low Latency)
Both of DeSibilizer / DeSibilizer LL can be unlocked with DeSibilizer license or Total Bundle license.
| | DeSibilizer | DeSibilizer LL |
| --- | --- | --- |
| Lookahead feature | Yes (0〜60msec) | No |
| Plugin Latency | 60.7msec | 0.67msec |
| Recommended for | Mixing and Mastering | When near-zero latency monitoring is required. |
Block Diagram
Screencast
Time-series Behavior
Version History
Version 1.15.3 (2022-09-09)

CLAP plugin format is now supported.

Version 1.13.0 (2021-12-22)

Initial release.
Common Specifications
System Requirements (Windows)
CPU
x64-compatible CPU
Operating System
Windows 10 22H2 (64bit only)
Windows 11 22H2
Supported Plugin Format
VST2, VST3, AAX-Native, CLAP
Supported Hosts
Ableton Live
Audition
Bitwig Studio
Cakewalk by BandLab
Cubase
DaVinci Resolve Fairlight
Digital Performer (VST2 only)
FL Studio
iZotope RX (VST2 only)
Nuendo
Premiere Pro
Pro Tools
REAPER
Samplitude
Sequoia
SOUND FORGE
Studio One
VEGAS Pro
Waveform
WaveLab
System Requirements (Mac)
CPU
Intel / Apple Silicon
Operating System
macOS Catalina 10.15
macOS Big Sur 11
macOS Monterey 12
macOS Ventura 13
Supported Plugin Format
VST2, VST3, Audio Unit, AAX-Native, CLAP
Supported Hosts
Ableton Live
Audition
Bitwig Studio
Cubase
DaVinci Resolve Fairlight
Digital Performer (Audio Unit only)
Final Cut Pro X
FL Studio
GarageBand
iZotope RX (VST2 only)
Logic Pro X
LUNA
Nuendo
Premiere Pro
Pro Tools
REAPER
Studio One
Waveform
WaveLab
Common Features
Supports 44.1k - 384kHz Sample Rate
64-bit Floating-point Internal Precision
Latency Compensation
Factory Preset
User Preset
Snapshot
Undo/Redo
Reset to Default