Invisible Limiter G3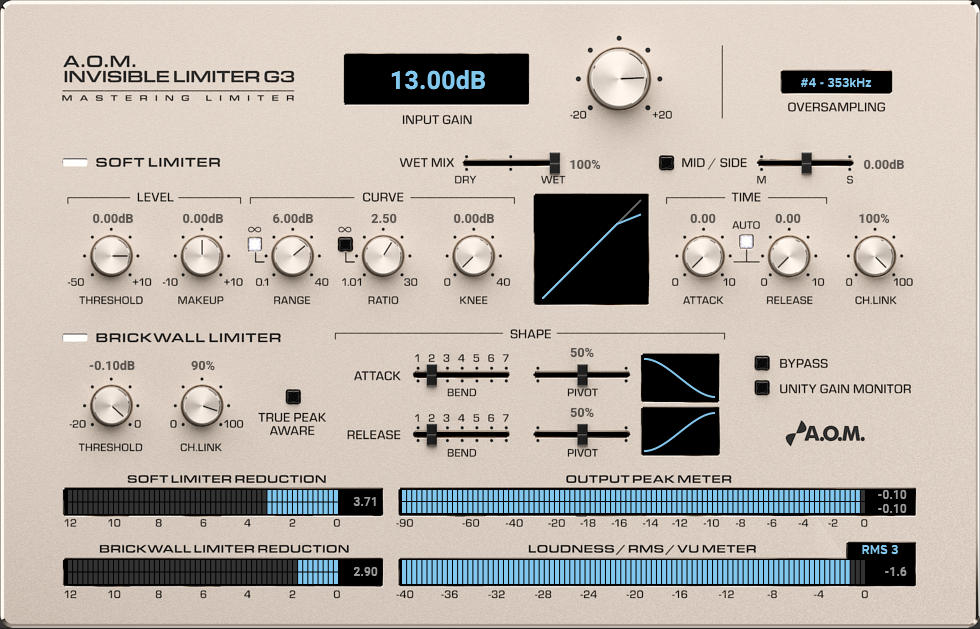 ▶ Perpetual License
22,000 JPY (excl. tax)
▶ 1-year to Perpetual extension
16,500 JPY (excl. tax)
Prerequisite
Total Bundle 1-year license
▶ Upgrade from Invisible Limiter
15,400 JPY (excl. tax)
Prerequisite
Invisible Limiter Perpetual license
▶ Upgrade from Invisible Limiter G2
11,000 JPY (excl. tax)
Prerequisite
Invisible Limiter G2 Perpetual license
License Purchase Guide
This license is for Invisible Limiter G3. Please note it cannot unlock Invisible Limiter nor Invisible Limiter G2.
Overview
Invisible Limiter G3 is the third generation of Invisible Limiter series coming with significant updates around fundamental limiting algorithm and oversampling engine. Supporting modern mastering techinque, Invisible Limiter G3's limiter features have been refined and reorganized from the previous generation.
Soft Limiter section
The goal of multistage peak limiting, frequently used in modern mastering process, is flexible peak envelope control in intermediate limiting stages. Soft Limiter section is a sophisticated toolset built for control of peak envelope. Unlike a conventional compressor and limiter, the Soft Limiter has large capability and flexibleness of peak envelope shaping by analyzing direct waveform instead of signal energy.
Since Soft Limiter does not enforce brickwall limiting, users can place Invisible Limiter G3 at intermediate position of their mastering chain for peak envelope control.
Brickwall Limiter section
The brickwall limiting algoritm has been refined from Invisible Limiter G2. It reduces many undesired side-effects such as narrow stereo image, signal smearing, spatial orientation change and groove alternation.
Invisible Limiter G3 enhanced its reduction curve shape adjustment feature from G2. It supports curve bending on time axis.
Features
Conceptual separation of intermediate peak envelope control and brickwall limiting.
Mid/Side processing
Parallel compression
Flexible control of reduction curve shape
True peak limiting
Reduction, peak and level meters
Oversampling up to approx. 1.5MHz
Unity Gain Monitor
Version History
Version 1.15.0 (2022-08-04)

Initial Release
Common Specifications
Operating System
Windows 8.1 / 10 / 11 (64bit only)
macOS 10.12 Sierra - macOS 12 Monterey (64bit only)
Processor
x64 compatible processor with SSE3 instructions
Apple Silicon Mac
Plugin Format
VST2, VST3, Audio Unit, AAX-Native
Common Features
Supports 44.1k - 384kHz Sample Rate
64-bit Floating-point Internal Precision
Latency Compensation
Factory Preset
Snapshot (ex A/B Comparison)
Undo/Redo
Reset to Default